Following my initial impressions here:
http://wetshinedetailing.blogspot.com/2009/11/carmate-black-resin-restore-initial.html

Black Resin Restore have been holding up pretty well on the Honda City's wiper cowl. How will it hold up on lower quality/more porous trim?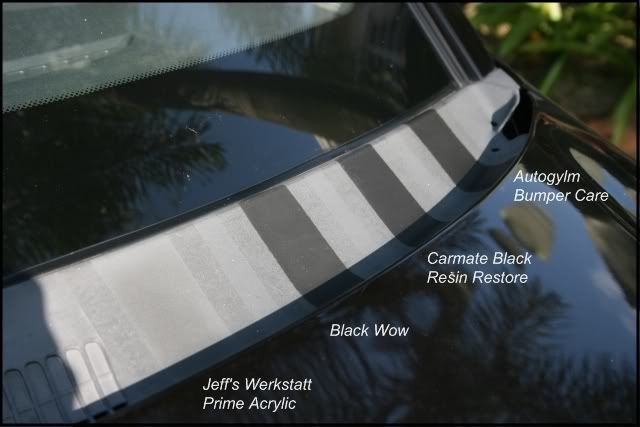 In addition to that, a new contender is added to the competition, Black Wow

Read the full review of this expensive little product after the jump.


If you haven't read my first thoughts about this product, you can read it here:
http://wetshinedetailing.blogspot.com/2009/11/carmate-black-resin-restore-initial.html

So after five weeks, we have the following result.




Sorry for the low light condition picture. As you can see, Carmate Black Resin Restore still looks very good, and this picture is taken when the trim is dirty and unwashed for almost 10 days. On left side of the picture, Jeff Werkstatt's Prime Acrylic still adds some colour to the trim, but is almost unnoticeable. Autoglym Bumper Care is completely washed off and does not show any more darkening effect.

Now let's find out how it will hold on more porous trim. Also, a new contender is introduced, Black Wow. Many thanks to Krismas a.k.a Azizi for it.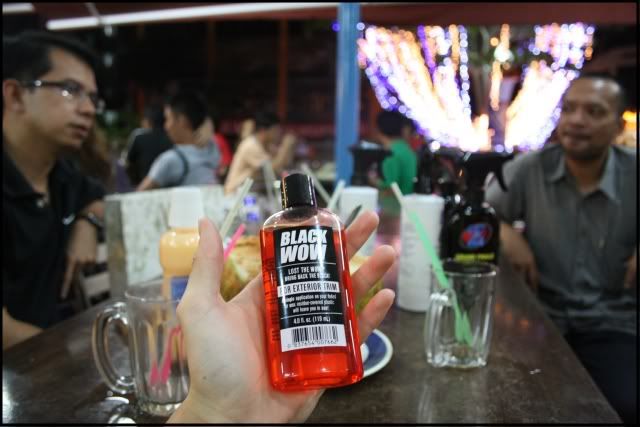 From my research on Auto Detailing forums, many of its users have mixed feelings about it. Some absolutely love it for it's long lasting darkening effect, while others felt that it is a total waste of money.

The wiper cowl on this Proton Saga has been scrubbed and cleaned with Osren Multi Clean three times and then wiped with Isopropyl Alcohol(diluted 1:1) before applying the following products.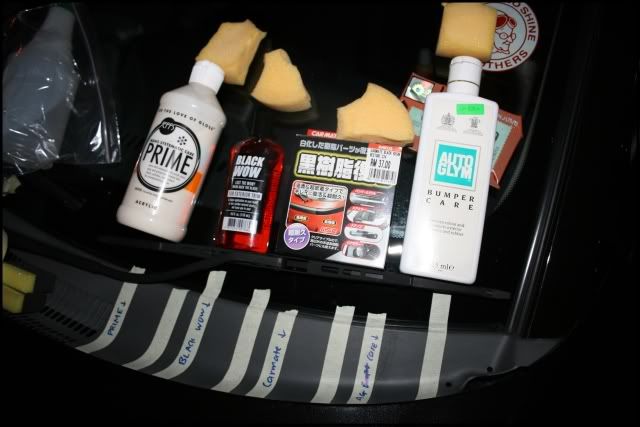 After application,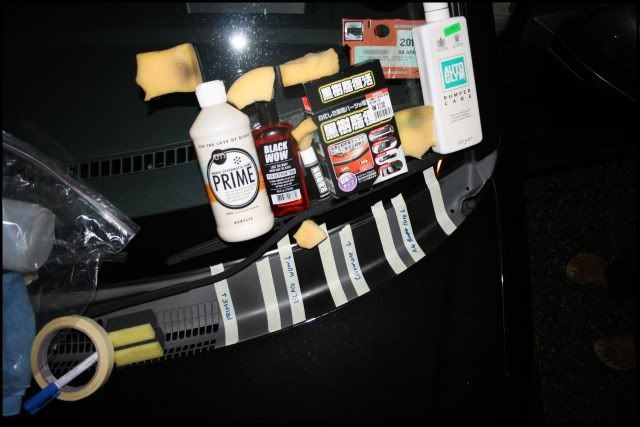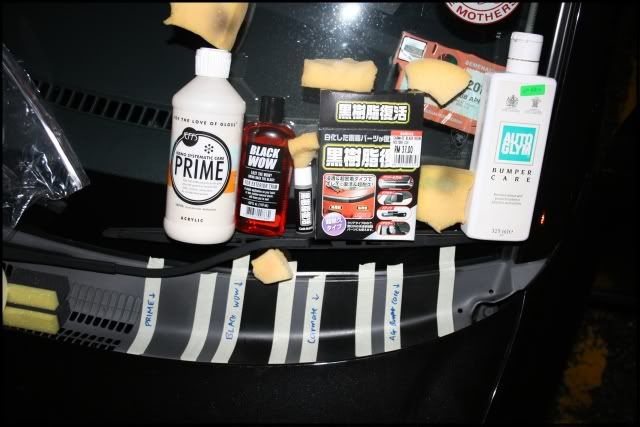 As you can see, the three trim dressings/coating darkens the trim really well whereas JW's Prime Acrylic only deep cleaned the surface and slightly darkens it.

Since the air was very humid and the drive home might affect the product's curing/drying process, I taped that section with some plastic.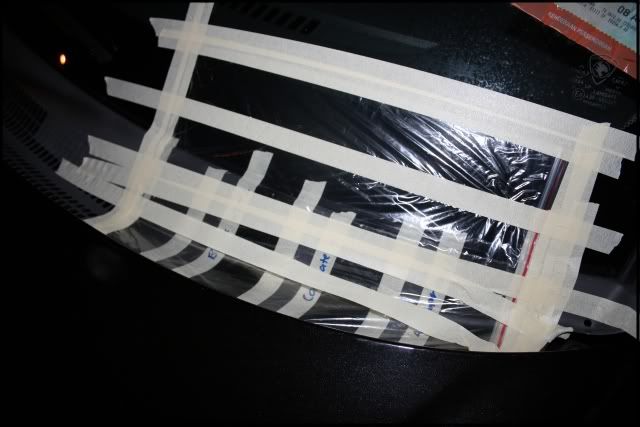 It is then left to dry overnight and under the hot sun the following day.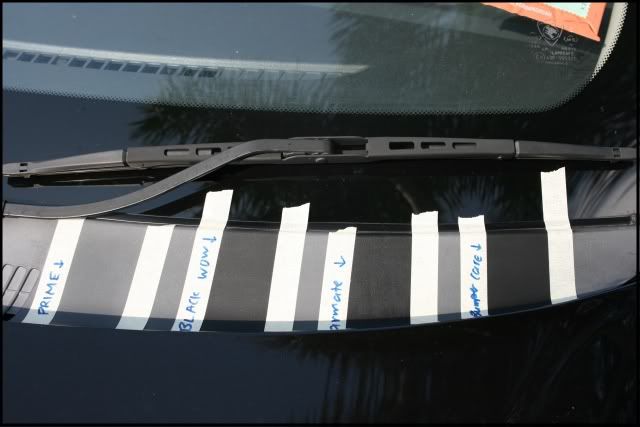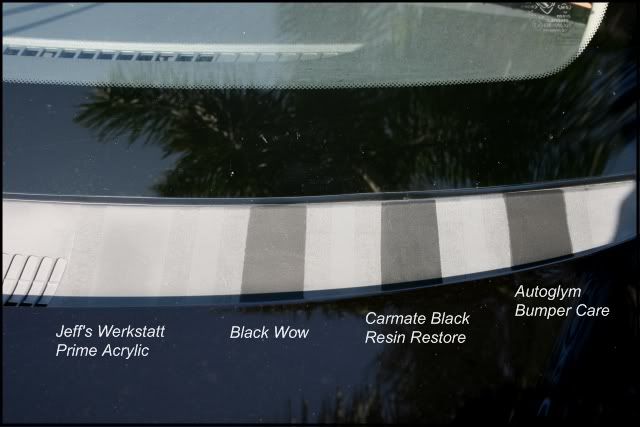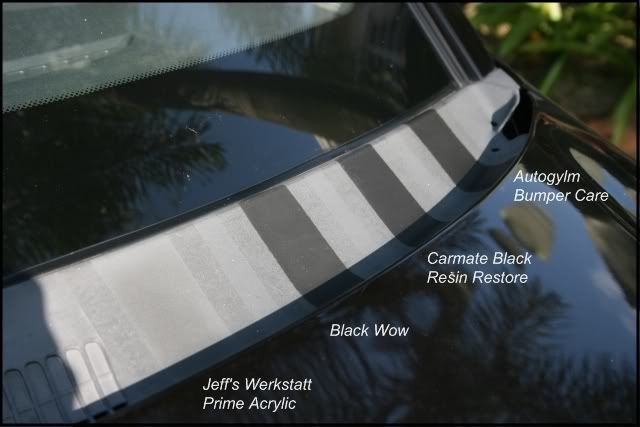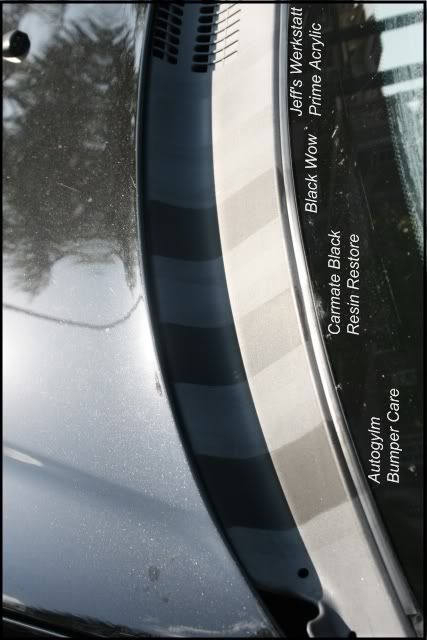 A closer look at each section,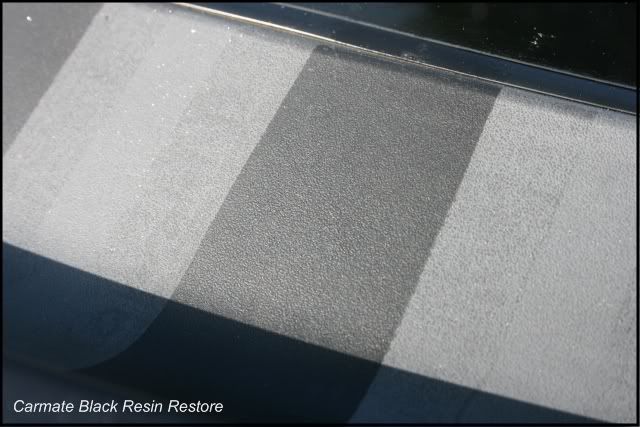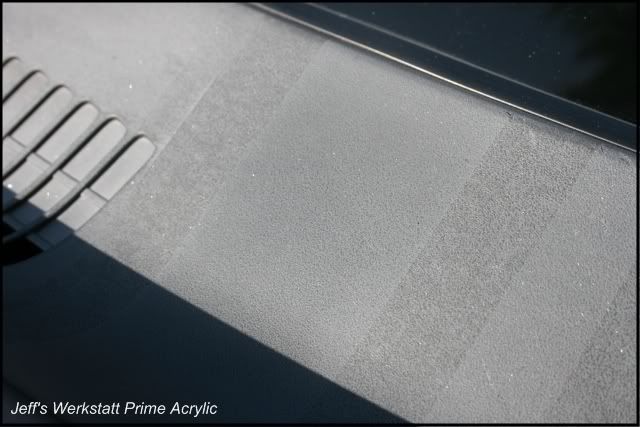 Fast forward 5 days of hot sun and heavy rain.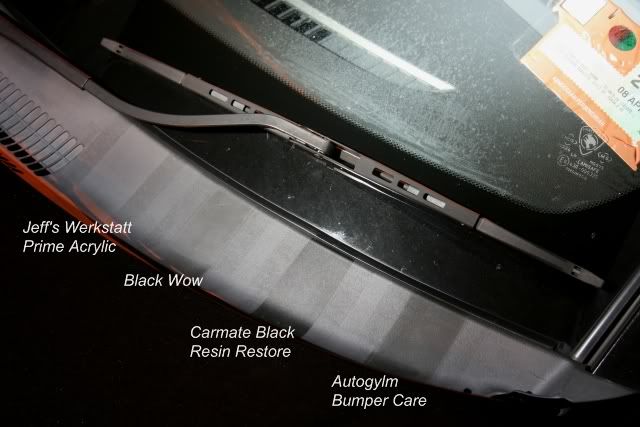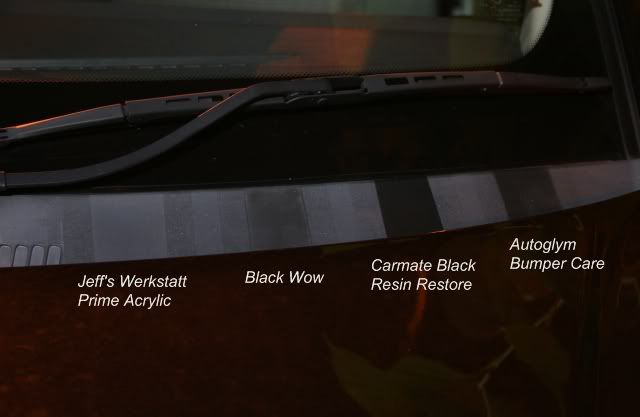 Black Wow's colour has diminished quite noticeably, followed by Autoglym Bumper Care, and finally Carmate Black Resin Restore, which had the least change in looks.

I was quite surprised at this result as I expected Black Wow to outlast AG Bumper Care. That is not conclusive, as it might last longer on less porous trim. Also, the position where AG Bumper Care is applied can be considered bias as it is on the far side of the trim. It has a smaller surface area and has a larger area that is protected by the car's hood, that is, when driving in the rain, it is not being bombarded by rain drops as heavily as the other areas.

Anyway this is a review of Carmate Black Resin Restore, not a comparison of AG Bumper Care with Black Wow or other products.

So what do I think about Carmate Black Resin Restore?

Application (2.5/5): Not very easy to apply as it is very thick and sticky. On porous trims, you will need more effort to apply the product as the trim will absorb more compared to less porous trim. On less porous trim, lesser amount is required and spreading is also easier. If you accidentally get some onto the paint, remove it immediately.

Value for Money (4/5): What? 4/5? Yes it may be small, only 10ml, but the fact that it lasts so well, the interval of re-application is longer. If you were using a water based dressing and want to keep your trim looking good all the time, chances are you need to reapply it every week or two. Then again, if I were to use this on customer's cars, a premium will be charged.

Performance (5/5): Bang on, the longest lasting trim product I have ever used. If you can afford the time and money for this product, I highly recommend it for personal use.

Product Availability (2/5): I have only seen this in Eneos during their 'Japan Products Fair', stocks could be limited and this brand isn't as popular here compared with other brands such as Meguiar's or Autoglym. Not to mention the unreadable Japanese instructions and product description on the back, unless you are Japanese, BANZAAAI!!

Thanks for reading this review. The review of other Japanese Products as mentioned in the previous post will be postponed, in place of that, Rainaway's products will be reviewed first, stay tuned!

Good and bad comments are always welcome. If you have not subscribed, click the 'Subscribe' tab above and enter E-mail, you will be notified of new posts.

^^V